Some of the islands of the Caribbean were tragically affect by the latest Hurricanes Irma and Maria. While 90% of the Caribbean is not affected or is back up-and-running, others islands are still devastated. Here is the latest updates and questions and answers to help you in planning your next trip to the Caribbean.
1. When is hurricane season? This starts at the beginning of July and ends at the end of November. It's like a bell graph so it starts low then peaks in September and dies off by November.
2. When is the safest time to travel to avoid hurricanes? End of November to beginning of July is not the Hurricane season. It's convenient for us because this is when it gets really cold here at home! However, it is still generally safe to travel during Hurricane season and they have added benefits like better rates, hurricane protection policy offered by all suppliers, less busy etc.
3. Where can I travel that hasn't been affected by the recent hurricanes? Aruba, Barbados, Bermuda, Cayman Islands, Curacao, Grenada, Martinique, Saint Lucia, St. Vincent and The Grenadine were completely spared. Minimal damage occurred in Antigua, Bahamas, Cuba, Dominican Republic, St. Kitts and Nevis and Turks and Caicos. Severe damage was done in Anguilla, BVI, Puerto Rico, St. Barthelemy, St. Martin/St. Maarten and USVI. (please see map).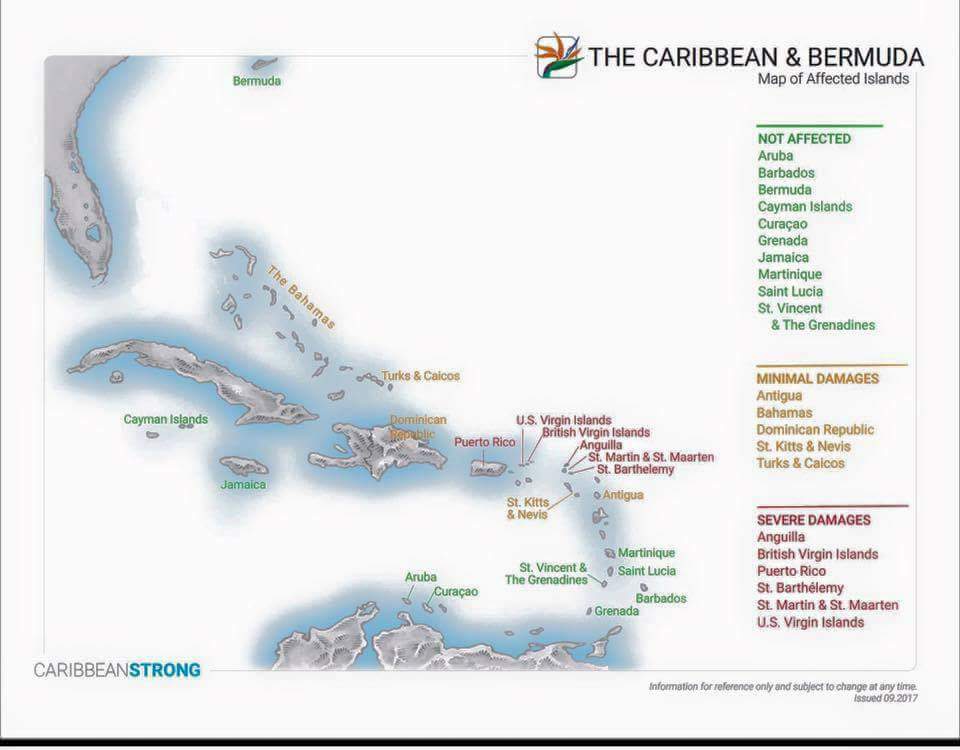 4. What are the benefits of booking with a travel agent? All of our agents are TICO certified travel agents and certified Destination Wedding and Honeymoon Specialists who are dedicated to serving our clientele. There is a major resurgence in the need for travel consultants again for all types of travel (work trip, family vacation or bucket-list holiday). During these situations like the hurricanes, your travel agent will do whatever is necessary for your safety and welfare and to find alternatives if you had trip plans have been affected. The benefits of working with a REAL travel agent (as opposed to booking your next trip online) is the ease of having a knowledgeable expert to take care of all of the details so you're not stuck wasting your valuable time doing all of the research yourself. All travel packages are the same price no matter if they are bought online or with a travel agent. You also receive a top quality consulting and booking experience and support and connection.
5. What would you do if you're caught in a Hurricane while traveling? Don't panic. Know that you'll be kept safe. You just have to follow the instructions of the resort's team. They are very well trained for these kinds of events and are extremely prepared in most cases and every island has shelters for this exact purpose. Our Canadian airlines including Sunwing, Transat, Air Canada and WestJet and many of the cruiselines went over-and-above by sending more flights and ships to pick up stranded guests before and immediately after. If you book with a travel agent, Canadian tour operator and reputable resort, cruiseline or hotel chain, you will always be in the best care.
6. If I have a trip already planned this winter, how can I find out more about my destination and/or resort and if they were damaged?
You can visit the Caribbean Hotel Association website at
http://caribbeantravelupdate.com/
for the most updated reports on each island and each resort/hotel that has been affected, or of course, contact your travel agent. For updated information on cruise-ports, please visit
www.caribbeanisopen.com
7. What is a Hurricane Protection Policy – This has been implemented by most Canadian tour operators which if you choose to travel during hurricane season and a hurricane affects your destination or resort, you have one of 3 options – change the resort, change the destination or change the date. It's purposely made easy so to still encourage travelers to travel to these beautiful destinations July – November.
8. Should I still plan to travel to the Caribbean this winter? Yes, absolutely. The hurricane season is now over and 90% of the Caribbean is open-for-business. Days before the hurricane and days after were incredible weather and knowing that it's extremely rare that a hurricane will come upon your doorstep during the exact time you're traveling, it's still very rare. I've been a travel agent and agency owner for over 20 years now and have served tens of thousands of customers to the Caribbean and I've only seen a hurricane affect 3 trips in all of that time. The benefits are better rates and it's less crowded.
9. What can the average person do to help the situation in the Caribbean? Our tourism community has come together to not only raise funds to send much needed water purification tablets (through Global Relief based in Etobicoke) and support in the affected areas, we're also collecting toiletries and travel agents and their clients who are traveling to these destinations are bringing these items with them. By far the VERY MOST IMPORTANT thing anyone can do to support the islands, is to travel there. It's safe. It's affordable and it has the same warm hospitality and beautiful resorts and beaches that they've always had. The people of the Caribbean are resilient and will rebuild again.

Romantic Planet Vacations, in collaboration with it's travel partners and customers, is contributing to the Hurricane Relief efforts for the Caribbean in the following ways;
CONTRIBUTION OF SALES
For all travel bookings made between September 15th, 2017 and December 31st, 2017, a $10 donation per passenger will be donated to the Hurricane Relief Fund in various Caribbean countries affected by Hurricanes Irma and Maria.
MAKE A DIRECT DONATION
Those who would like to make a direct donation can do so at:
DROP OF ITEMS
Our office in Burlington, Ontario (2108 Old Lakeshore Rd) is accepting non-perishable and required goods that is urgently needed to those in the affected areas until December 6, 2017. These items are:
-Band-aides
-Gauze
-Medical Tape
-Pedialyte
-Gatorade
-Water Purification Tablets
-First Aid Kits
-Diapers (adults and children)
-Wipes
-Toothbrushes
-Toothpaste
-Deodorant
-Combs/Brushes
-Soap
-Tampons/pads
-Shampoo
-Garbage Bags
-Baby Formula
-Small tents
-Towels
-Work Gloves
-Flash lights
-Baby food