Kimberley Barr
Kimberley.Barr@romanticplanet.ca  direct: 403-850-1254
I'm a Certified Destination Wedding & Honeymoon Specialist I have always been intrigued in planning events and Destination weddings and escapes. My first Destination Wedding and Honeymoon I planned was mine in 2008 and I have helped so many friends and family since that to ensure they get their perfect trips. So when Romantic Planet Vacations came along it was an easy YES for me, its something I have done on the side for years for fun so I didnt have to think twice about my decision to start.
I am a mom of 2 boys and I also have 2 special needs individuals that live with me full time that I am a caregiver for. I have always loved travel and I fully understand the need for stress-free and relaxing travel and I make it my mission to provide this as possible when I am helping Brides and Grooms book their Destination Weddings and Honeymoons, as well I make it my same mission for every traveller I work with.
Some food for thought while you plan your next trips:
"Once in a while it really hits people that they don't have to experience the world in the way they have been told to." – Alan Keightley
"Twenty years from now you will be more disappointed by the things you didn't do than by the ones you did do." – Mark Twain
Destination Weddings
Wedding is a once-in-a-lifetime experience, and we at Romantic Planet Vacations specialize in making your destination wedding dream a reality. We work closely with airlines, tour operators, cruiselines, attractions, and accomodations from around the world to provide you with a carefree, happy, and memorable event. Whether you invision this day to be at a castle in Europe, on a tropical beach, or on the deck of a cruiseship, your happiness and your love for one another is our drive for success.
We have wedding packages to suit all budgets and destinations to suit all desires. Please contact me and we will begin the journey to provide you with the most memorable destination wedding.
Top Recommended Destinations
Although we offer any destination in the world, the all-inclusive hotspots are in top demand. We have personally traveled to and inspected most resorts in these areas so to continue our efforts of being the experts that you require. The most popular all-inclusive destinations are Cuba, Dominican Republic, Jamaica, and Mexico, with more unique being Barbados, Costa Rica, and St. Lucia.
Receive a Complimentary Personalized Wedding Web-Site!
Romantic Planet Vacations has been offering complimentary Wedding Web-Sites for all wedding groups (min 10 passengers) since 2009. Since then, enhanced features have been added to include 24-hour secure online booking and payments for you and your guests, automatic guest list updates whenever a new guest books, and full maintenance of all information including rates, flight schedules, hotel information and more.
Receive a Complimentary Save-the-Date Wedding E-flyer!
Every destination wedding booked with Romantic Planet Vacations (min 10 passengers) receive a complimentary Save-the-Date E-flyer once the group is confirmed with the supplier, which details in PDF the resort, date, rates and how to book so to give you the advantage of letting your guests know the details as soon as possible.
Supplier Bonuses!
Many of our valued travel suppliers including tour operators and resorts offer wedding groups special bonuses from complimentary passengers, upgrades, and much more! Please visit our Home Page for more information or contact one of our Certified Destination Wedding Specialists today!
Upcoming Events & Presentations
We have FREE Destination Wedding and Honeymoon Presentations held regularly throughout the year. This is very useful for anyone planning a destination wedding or honeymoon. Learn about important information: various destinations, resort options, how to book a wedding, FAQ's, world's most romantic honeymoons, and much more! Please click here to see where and when the next presentations will be held.
Refer me!
I truly appreciate your referral. If you know anyone else who is planning a honeymoon or destination wedding, we'd love to help them.
Included in My Services
Rest assure that by contacting Romantic Planet Vacations, you will receive personalized, friendly, dedicated and expert advice while planning and coordinating this very special occasion. We provide all with No Service Fee. The best way to get started is to submit your DESTINATION WEDDING QUOTE REQUEST to us and one of our Certified Destination Wedding Specialists will get back to you shortly.
COMMITMENT DEPOSIT: I would be more then happy to provide you up to three hours of complimentary in-person, by phone, email, or by skype travel consultation and group quoting services and thereafter, require a $300 commitment deposit. This deposit will be applied towards your group trip when you are ready to book (if booked within one year) or is non-refundable if you ultimately decide not to book your wedding group with us. Included with this deposit, you will be guaranteed a dedicated Certified Destination Wedding Specialist and experienced Certified Travel Agent (myself) to continue to assist you in finding the destination and resort of your dreams.
Honeymoons, Luxury & Romance
Awe-inspiring Honeymoons can be an Experience of a Lifetime
We only offer the world's most romantic destinations as a setting for your honeymoon because, frankly, you deserve perfection. These places were designed for your love and will cater to your every need and desires for the most amazing honeymoon. Whether it's a beach vacation, safari, ski trip or cruise, Romantic Planet Vacations will provide you with sheer paradise for your honeymoon getaway!
After your wedding it will be time to unwind and take in what the world has to offer you as a newlywed couple. Every honeymoon package booked with us with include a special gift and red-carpet treatment whereever you go.
Honeymoon Gift Registry
Romantic Planet Vacations offers a unique online gift registry that not only offers the opportunity for your guests to contribute any dollar amount towards your honeymoon, we also offer special travel experiences for which your guests can provide you such a couples massage, romantic sunset cruise, or tour of the local sights. Please click here for more information.
Upcoming Events & Presentations
We have FREE Honeymoon and Destination Wedding Presentations held regularly throughout the year. This is very useful for anyone planning a destination wedding or honeymoon. Learn about important information: various destinations, resort options, how to book a wedding, FAQ's, world's most romantic honeymoons, and much more! Please click here to see where and when the next presentations will be held.
Top PICKS: best Honeymoon Recommendations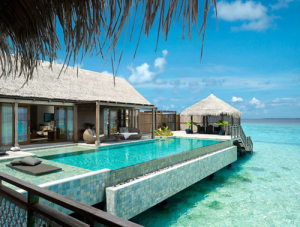 Australia: Great Barrier Reef luxury resorts (Hayman Island, Lizard Island)
Bahamas: Custom Package The Cove, Atlantis Resort with a remote island stay 10 to 14 days, Sandals Resorts
Barbados: The Crane Resort, Fairmont Royal Pavilion, The House
Canada: Many romantic packages are available nationwide. Try Quebec City, Banff/Lake Louise, Whistler, or self-drive the maritimes! Most Fairmont resorts offer romance packages.
Cook Islands: Custom Packages at beachfront quaint hotels
Costa Rica: All-inclusive beach or try a custom Costa Rica Honeymoon Getaway Package
Cuba: Paradisus Rio De Oro, Paradisus Princesa del Mar, Iberostar Ensenacho
Dominican Republic – Punta Cana: Sivory Punta Cana, Excellence Punta Cana, Paradisus Palma Real, Iberostar Grand Hotel, Palace Resorts
Dominican Republic – Samana: Gran Bahia Principe Cayo Levantado
Ecuador: If you love nature, Ecuador is a perfect place for your Eco-Honeymoon, combining luxury with simplicity. 9-Day Ecuadorian Pacific Coast , 8-Day Cloud Forest Honeymoon Package
France: We will design a package perfect for you. Try combo with stay in Paris, rail with castle stay in country and end with stay on the Mediterranean.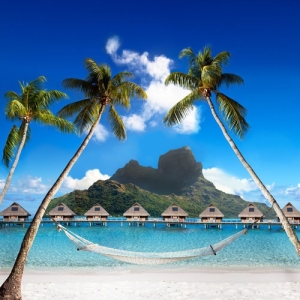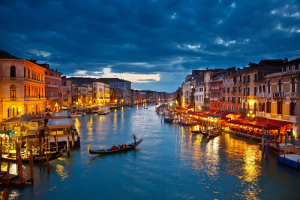 Fiji: Custom Packages with options of small-ship cruise, private island stays, and over-water bungalows.
Greece: This is one of our top honeymoon destinations! We will fully customize an island hop stay to include Santorini, Mykonos, and visits to the ruins in Athens. 13-Day Greece Honeymoon Getaway Package
Hawaii: Maui, Kauai
Honduras: We have a 7-Nights Honeymoon Getaway Package
Ireland and Scotland: Why not live like kings and queens with a memorable stay in a castle!
Italy: One of the most romantic countries in the world. Fully customizable packages available to include Rome, Florence &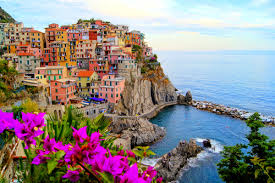 Tuscany, and more. Italy Honeymoon Getaway Package.
Indonesia: Bali
Jamaica: Half Moon Resort, Iberostar Grand, Royal Plantation, Couples Resorts, Sandals
Maldives: Conrad Maldives with its underwater restaurant, Huvafen Fushi Resort with its underwater spa
Mexico – Cancun: Le Blanc Spa Resort, Sun Palace, The Royal Cancun, ME Cancun, Palace Resorts
Mexico – Los Cabos: Desire Resort & Spa, Dreams Los Cabos, Sandos
Mexico – Mayan Riviera: Secrets Capri, Excellence Riviera, Valetin Imperial Maya, El Dorado Royale, El Dorado Maroma, Iberostar Grand, Royal Hideaway, The Royal Playa Del Carmen, Secrets Maroma, Secrets Silversands, Palace Resorts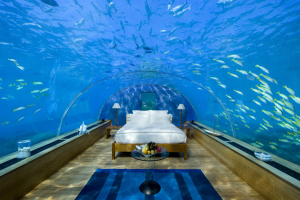 Mexico – Puerto Vallarta: Villa Premiere, Dreams Villamagna
St. Lucia: Anse Chastanet, Jade Mountain, Windjammer Landing, Sandals
Tahiti/French Polynesia (Tahiti, Bora Bora, Moorea): Custom Package with island stays in Moorea, Tahiti and Bora Bora. End with nights in romantic overwater bungalow
Thailand: Phuket, Krabi custom packages.
Turks and Caicos: The Regent Grand, The Villa Renaissance.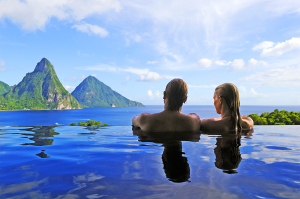 Our team are all Certified Honeymoon Specialists. We will not book you just a normal trip. We will help make it a trip of a lifetime – as so you deserve! Please contact us for your custom
Current Travel Deals
JADE MOUNTAIN
2017 Fall & Winter Promotions
SKY SANCTUARY SALE
Take advantage of our 30% off daily all-inclusive rates for stays 3 of nights or more in our Sky Jacuzzi Suite. Available for travel until December 15, 2017. Book by October 31, 2017 to take advantage of this limited time offer.
TAKE FIVE AT JADE MOUNTAIN
Enjoy a 5th NIGHT FREE at JADE MOUNTAIN during selected 2017 dates when reserving a Sky Jacuzzi suite or a Star or Moon infinity pool sanctuary on either our daily rate or our TOTAL ROMANCE PACKAGE.
Daily rates per couple, per night, are:
 US 1,220 / 1,700 / 2,015 (Nov 1 – Dec 19, 2017)
in Sky, Star and Moon sanctuaries respectively.
Certifications
Certified Honeymoon and Destination Wedding Specialist
Iberostar Wedding Specialist
Aruba Certified Expert ACE 
Jamaica Travel Specialist
Saint Lucia Destination Specialist
Fort Lauderdale Specialist 
Memberships
Member of Destination Vows Specialists 
Member of the Destination Wedding and Honeymoon Association
Testimonials